*Tail of the Dragon*
May 2004
I had not heard of the Tail of the Dragon before until seeing a map of it at my coworker's cube. It's famous for its 318 turns over 11 mountainous miles. The road is so curvy and narrow that it's renown mostly within the motorcycle circle. But cars have fun too!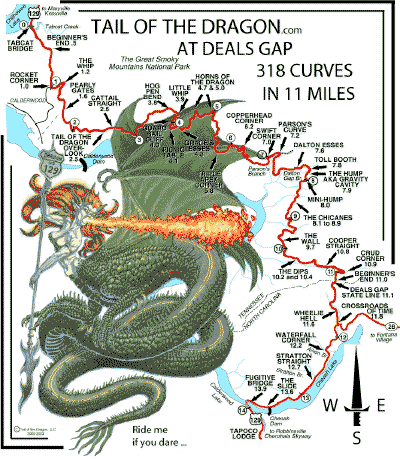 www.tailofthedragon.com www.killboy.com
The cars
| | | | | | | |
| --- | --- | --- | --- | --- | --- | --- |
| Car | Transmission | Power | Curb Weight | 0-60 MPH | Tires | Notable Modifications |
| 2004 Subaru WRX STi | 6 Manual | 300 hp | 3300 lb | High 4s | Bridgestone RE070 225/45ZR17 | Front & rear strut tower braces. |
| 2002 BMW M3 SMG | 6 Sequential | 333 hp | 3400 lb | High 4s | Michelin Pilot Sport 225/45ZR18 Fr, 255/40ZR18 Rr | |
| 1993 Mazda RX-7 | 5 Manual | 255 hp | 2800 lb | High 4s to Low 5s | Yokohama AVS ES100 245/45ZR16 | No cat, custom fuel programming, no A/C, no P/S... |
| 2002 Lincoln LS V6 Manual | 5 Manual | 220 hp | 3650 lb | High 7s | Michelin Pilot HX MXM all-seasons 235/50R17 V | |
| Me: BMW 318is | 5 Manual | 138 hp | 2900 lb | Low 9s | Good Year Eagle F1 GS-D3 225/45ZR17 | ECU chip, front/rear/underbody braces, Bilstein BTS springs/shocks/struts, altered alignment, Axxis Ultimate pads... |
Green text indicates best in category.
The Videos
All the ones here right now are taken from the RX-7 using a tripod made of PVC tubing :) The one with my car is the lower right one (MVI_0452.avi). Full length videos will take a while before being uploaded (coming from DV camera) taken in the M3 and STi. The next time we're there, we'll have proper mounting equipment!
New videos from 2005 (I wasn't there): http://www.chassismutts.com
The Photos

| | |
| --- | --- |
| | The "early birds." We left Dearborn, Michigan at about 7:30 PM on Thursday, May 20 and drove until about 3 AM, stopping in southern Tennessee. Here we are in the early afternoon of May 21. Found a nice photo spot after taking a wrong turn... |
| | With the drivers now! |
| | We spot the M3, coming in late from Connecticut after sleeping only an hour the previous night at a rest stop. But he still joins us! |
| | This is the start of the climb of the Tail of the Dragon. But it was the end in our case since this run was done from the other end. Slight smoke from the STi's brakes, and the LS complains about brake fade... |
| | Rear view. |
| | Back at our cabin. It was a 3 bedroom cabin for 6 people. The cars in the background aren't with us. |
| | Rest stop the next morning at the entrance to the scenic, higher speed Cherohola Skyway. |
| | At the top of the skyway. The big engined cars (actually, more correctly, the high output cars) need to cool off. |
| | Bottom of the hill. The M3 led on this route. |
| | Time for a shower! I didn't actually use the automatic wash but had to pull in there for the photo. |
| | Some of us went to the Fontana Dam too. It's the highest one within the Tennessee Valley Authority. |
| | Our STi WRX meets up with the Lancer EVO on the trip back! |
The Writeup
We had a totally awesome weekend with my hardcore enthusiast coworkers... Although I've been on roads of similar difficulty in California before, the network of roads at the Tennessee/North Carolina border just offers so many miles of well paved variety, from the tightest bends (< 50 km/h) to high speed (> 140 km/h) sweepers! Plus, there were awesome views and places for outdoor hiking, camping, etc. Praise God for keeping us safe despite pitch-black night driving and partially wet weather.

In the end, my friends crowned me the "King of the Hill" for beating the odds and being the fastest (not timed, but because I could easily keep up with and outrun "supercars" with twice the power and costing US$20k more!). They couldn't believe that this tiny 1.8L with double the acceleration times could keep up, so they looked for the uphill stretches to pull away, only to have me on their tail again by mid-corner.

Despite the all wheel drive (the STi) and the electronic gizmos (M3), I didn't feel disadvantaged at all in the wet, probably because of my tires and because I'm so used to wet weather limit driving being from Vancouver :) The car performed beautifully. I'm sure it was "tired" from being run between 4500 RPM and redline in 2nd gear for 10 minute stretches, but my current setup that is looser on the high speed corners was near perfect in the heart of the twisties . The M3 was smoking its front tires (same 225/45 but with more front end weight statically and dynamically) trying to outrun me. And the Brembos on the STi started smoking slightly after the downhill stretch. My friend with the custom fuel mapping on his RX-7 was blowing smoke and flames out from running rich (made a cool scene and smell). And the Lincoln LS (V6 manual) was getting brake fade. Of course, it's a heavier car, and it was the only one in the group to run on all season tires. The only thing with my car was a finicky fuel gauge which is a common problem, but the fuel sloshing probably made it worse... Enough heat was generated in the STi engine bay to repeatedly soften the windshield washer tank cap and have it fall off (and the fluid spill).

Highlights:
-Night drive. This was the best fun for me. Instead of grip or power limited, this was visibility limited. With the rewired lows + highs + fogs, it was a blast. Doing this road at night is a surreal experience, almost like a dream where driving becomes second nature. No problem outrunning the other cars here (even those with HIDs).
-Porsche 944 Turbo flogs it, using the gravel and drifting it through the corners.
-Lincoln LS gets power oversteer, drops one rear wheel off the pavement, runs out of rebound travel, body weld flange (jacking point) bottoms out on asphalt, shoots car back the other way, and driver saves it after going sideways!
-STi meets up with EVO on highway drive back.
-Group meets up with Viper pack on highway drive back.
-All 5 cars pull into a 5 bay, coin-operated car wash.

More tech stuff:
-318is, LS and RX-7 wished it had more RPMs left at top of 2nd. It was annoying to have to shift to 3rd and then immediately coming back down to 2nd. Remember there are 318 turns over 11 miles! For me, I often just didn't bother shifting to third and just kept a slower entrance speed (less to scrub off). STi easily ran most of it in 3rd and 4th! Overall, I'm definitely power limited. But with more power, I might be brake/front tire limited. Because my entry speeds were probably slower than the others, and I couldn't accelerate hard out, I made up most of my time in the corners where the balance allowed me to corner more aggressively.
-My brakes (Axxis Ultimates) stayed with me all the way. No hint of fade, whatsoever. Also, I used them much less than the others, especially when following. The engine braking is pretty serious near redline, and the sudden throttle close (no electronic damping) helped.
-Really liked the balance. Wish it had more torque on exits to rotate the car out (was marginally better in the wet), but it wasn't a huge problem because the front end hung on despite early throttle, and the STi and M3 didn't benefit much from the extra torque. I loved how the slightly harder braking helped turn-in, even harder braking stabilized the car by understeer, and super hard braking will get the car to a slight 4 wheel drift, given enough speed :) On the high speed sweepers though, I need more understeer, in case I need to make a sudden direction change or came in too fast. Not very confidence inspiring. But overall, the criticism that I had for this setup (insufficient rear high speed damping and lift throttle sensitivity) didn't rear its ugly head on this course.
-These GS-D3s are awesome in the wet. I couldn't believe it when I pushed the corners as hard as I did in the dry except for slightly earlier braking, meaning I really could have gotten more out in the dry if I had the guts. Barely invoked the ABS or got terminal understeer, due to the cambering of the roads. Not enough torque in the wet even to get scary other than slight squirreling... I think these tires were one of my main advantages. Basically had the same contact patch up as the STi and M3 (at least up front) with less weight. The wear seems a little strange though. On straight roads, I'm only using the center portion of the tread; the outer 1/2 to 3/4 inch is not used, but given any moderate cornering, I see wear right to the edge of the tread. And pushing it harder doesn't seem to make it wear farther outboard. It's as if the tire flexes initially given any lateral load and then stiffens up to prevent further tucking.
-I started out at about 36/34 psi cold, and then dropped the rear to 33 after wanting a little more rotation. That 1 psi was quite significant to me. Would have dropped the rear or pumped the front up even more for more fun on corner exit, but I wanted that understeer built in for safety given that there was not much room for error!
-The LS's tire wear was very even, a testimony to its good kinematics from the SLA setup.
-I didn't focus on the line as much as I should have. I made it a point to stay in my own lane except for some very tight, high visibility corners. The front end just kept gripping, so I got away with some bad lines. I seem to feel some roll oversteer, definitely much more noticeable than my previous, stiffer setup.
-Was able to practice left foot braking on the less spirited runs. Didn't realize how tiring it would be to have the left foot so far to the right (my brake and accelerator pedals are very close together).
-Once we cross over from Tennessee to North Carolina, the pavement worsened...which makes it more fun because I no longer feel as power limited!
-Driving long distance is much easier with a fleet of cars. Just leading/following keeps you awake more easily. Two way radios are a source of random entertainment. More importantly, the leader can tell the guys bringing up the rear when it's safe to pass. Having someone with a Valentine One helped too.
-I made quite an amazing 18-19 MPG on the hard run tanks, and up to 32 MPG on the highway.


Driving the other cars:

STi
Got a brief drive in this car, not in the twistiest section and not pushing it that hard, but this is one beast! When the turbo comes on, it's a serious "concave up" type of feel. Wish it had more anti-lift/squat though. I'm not used to the behavior at all. In tight corners, the torque steer pulls the car hard into the corner, requiring me to center the wheel manually. Self-centering torque builds up really quickly off center. Brake feel is awesome: firm and no deadband. A variety of strange driveline and road noises permeate the cabin. Incredible mid-range pull. This is not an easy car to drive fast until you learn all its chassis and powertrain traits.

M3 SMG
Despite being similarly powered as the STi, this car feels like it can be driven fast quite nicely. Superb top end pull. SMG is super fast when pushed, accompanied by a hard thunk through the driveline that just can't be good. Some light shifts feel kind of slow though, especially the downshifts where it takes its time to match the revs instead of a quick blip. It's a totally different experience. I think some of the shifts are not actually slow but feel a bit slow because I'm expecting the near-seamless torque delivery of an automatic based shift. Instead, I pull the paddle, and there's some time (when I'd be doing my shifting on a normal transmission) before the power comes back on. I guess we need to ask the passenger for a fairer comparison. On the large throttle shifts, however, these are just amazingly fast. I'm happy that BMW kept the rapid throttle response on lift throttle to actually get true lift throttle oversteer instead of a damped closing like on the non-M cars.